Posts Tagged 'mortgage backed securities'
Paul Krugman has a good column this morning, States of Depression, where he's noticed that cuts at the state and local level are accelerating and becoming a burden on the overall economy.  I don't always agree with Krugman but he's dead-on with this one.
I've been studying housing finance reports extensively lately and can't help miss how few of the AAA-rated tranches have taken losses.  According to official reports everything is peachy-keen with the overall majority of houses in subprimeville.
Except that it's not.
I've written extensively that there are a myriad of indicators showing that those losses are very real, that they will have to be accounted for, and that they're coming soon to our front door.
For those not in the know, mortgages were bundled together into big pools — called securities for legal reasons, though they look like bonds in the same way a Siberian Husky resembles a wolf — under the notion that if you combine enough the whole pile cannot collectively fail.  They were then divided into three sections, or groups, and each group usually divided into further subsections called tranches.
As losses hit these portfolios they were supposed to come from the bottom up, wiping out the lowest tier of the bottom group, then the next, and so forth.  Sometimes this was changed slightly so losses from each group were held within the group itself, but it's the same basic notion.
Most importantly, the bottom tiers were supposed to insulate the top-tiers.  In fact, there was so much "buffer" built  in that the top tiers they were deemed as safe as US debt by the ratings agencies and rated AAA; actually safer, given our shiny-new AA rating.
However, much of that buffer has been eaten away.  Now that it's gone we should be realizing the losses to the AAA's but, rather, it's "Houston (or, in this case, every other American city), we have a paperwork problem."
Thanks to reckless, illegal, and unethical practices by mortgage servicers we really do have much worse than a "paperwork problem," we had a fraud-fest that slowed down the foreclosure factory and delayed the losses.  But that excuse is wearing thin and we have to face the more basic problem: we're broke.
In much the same way that pooling together all those houses was supposed to make sure the whole collection could not fail, it made a countrywide (yes, that's intentional) decline in house prices push down the entire pool.  Rather than mark the losses we changed the accounting rules so that those losses could be delayed.  Reality has a way of catching up though, and we're about there.
Who invested in these AAA's?  Pension funds, life insurance companies, city, county, and state governments, college endowments; organizations that either should or were legally required to make extremely conservative investments.  Know those annuities your uncle Lew said would always pay .. the money's likely supposed to come from the AAA's.
The number of people hurt by the micro-economic effect of the housing bubble and ensuing foreclosure fiasco has been relatively small, thanks to the bailouts.  Love them or hate them — and I have to admit, I'm not such a big fan though I am beginning to understand them better — they buffered a severe blow to the economy.
All that will change soon as the AAA's topple.  It's not a question of if, just when .. and when comes closer every day.
Uber analyst Meredith Whitney famously predicted widespread municipal failures, and was famously "wrong" as muni bond prices declined thanks to some magic force propping up the market.  That force is called fraud, accounting fraud, and those muni's will melt to mush.  Just like Jefferson County's sewer system left the residents there in the financial crapper, so too will those AAA's; they're a cancer that's being ignored ("Judge .. can we delay this sale a sixth time," asks the bank lawyer).
I'm thinking of a comment I read a couple years ago from a man who said that he's worked as a state government employee his whole life but who's now retiring and moving to a different country to enjoy low taxes.  Somehow this putz didn't see the correlation between his cushy lifelong pension to those same taxes.
Hopefully he's having fun because it won't be long until those fat checks for the tax-hating fat-cat bureaucrat will take a Marine-style haircut.
It's virtually certain that a large percentage of his checks, and those that fund and fuel local spending, are invested in those AAA's, and that those losses have not been accounted for.  At one point towards the end of last year Florida's pension fund was reporting an 18% return, in a year when most hedge funds reports losses, thanks to the delusional way we account for AAA losses.
Maybe the people of the city, county, or state he "served," with resentment will be willing to see their property and sales tax tripled to support sending pension checks to far-flung ingrate retirees like him.  Somehow I doubt it, especially since the anti-government feelings he embraces are widespread, and taxpayers resent being taxed for retiree pensions they themselves don't have.  More likely are upcoming municipal bankruptcies to thrown him, and those like him, under one of the soon to be idled buses.
Whitney is right but, thanks to fraud, her timing was off.  When those losses start to hit everybody will feel the pain.  Schools will be shut-down, services slashed, and fees increased.  Soon we'll be Greece, with fewer islands and lousier food.
One day we'll look back upon the last few years and wish we'd had an honest discussion about how to quickly push down those principal levels and put a real floor on the housing market — and the structured finance products behind it — rather than the dysfunctional dialog that's been ongoing.
I've been working with Alan Boyce and his staff to better understand the ProPublica/NPR Freddie Mac story I criticized along with many other bloggers, Freddie Mac Bets Against American Homeowners.
To reiterate, ProPublica wrote that Freddie Mac kept (or "purchased", though they really did neither)  the IO coupon of newly purchased securities, called inverse floaters.  These securities carried relatively steep interest rates, so it appeared that Freddie was aiming to discourage refinancing and place borrowers in "financial jail," as one borrower put it.
Many bloggers, including me, responded "nonsense" .. there's nothing wrong or strange about keeping the interest-only portion of newly issued securities; we weren't even sure if anybody else would be interested in purchasing them.
What really happened is, like most issues affecting housing, more complicated, more sinister, and still entirely (as noted by Pro Publica) entirely legal.  It's arguably the type of deal Freddie was required to enter into under the 2008 Housing and Economic Recovery Act (HERA 2008), which mandates that the GSE's minimize taxpayer losses.
Background: the GSE's, Fannie Mae & Freddie Mac
Before explaining let's review some basics.  There are two Government Supported Enterprises, or GSE's, related to housing, Fannie Mae and Freddie Mac.  People who work with them refer to them as Fannie and Freddie, or FMFM though I shy away from the latter.  They compete to purchase loans from banks.  They do not lend directly to borrowers.
Fannie and Freddie were "private" companies until 2008.  Because they were created by the US Government they were able to borrow money at lower rates than other private companies. Their prospectuses explicitly clarified the money they were raising was in no way backed by the US Government, though when they failed this explicit disclaimer was replaced by an "implied guarantee."
When Fannie and Freddie began to collapse they were seized and back-stopped by the US Government.
There's an irony that many sub-prime mortgage brokers made a rather explicit guarantee that, say, people could refinance before the interest rate on their adjustable mortgages exploded which were entirely ignored.  At the same time, the explicit non-guarantee affecting Fannie and Freddie investors was cast as exactly the opposite.
Fannie and Freddie purchase mortgages from banks, bundle them into "pools," add a guarantee to loans with less than 80-percent equity, then resell the bundled mortgages to investors.  Sometimes they'll sell only the interest only part of the loan, called IO, sometimes the principal only, called PO, and sometimes both.
At the same time they run what's essentially an enormous hedge fund, purchasing many of the securities they themselves have guaranteed.  That is, one half of the organization bundles mortgages into pools, guarantees them, then sells them to investors which often includes people working in the other half of the organization.
Fannie and Freddie collapsed at the end of the housing bubble and the government swooped-in to rescue them, keeping them "private" but putting them under government "conservatorship" run by regulator Edward DeMarco.  To date, they've received over $182 billion of corporate welfare and the money keeps flowing.
As mentioned above, DeMarco is bound by HERA 2008; his job is to minimize the losses of the GSE's to the American taxpayer while still retaining the aim of making houses affordable.
Fannie and Freddie, and DeMarco too, tend to make people's blood boil across the political spectrum.  Some of that is justified; for example, approval of multi-million bonuses for the CEO's of the GSE's, refusing to answer Freedom Of Information Act Requests, and ignoring the loan-level reporting requirements in HERA 2008 are indefensible.
But in other ways the conflicting goals of minimizing taxpayer losses — i.e., by making money, or at least losing the minimum possible — and making housing affordable put DeMarco in an impossible situation.  For a more detail on how the US ended up in this position Reckless Endangerment: How Outsized Ambition, Greed, and Corruption Led to Economic Armageddon by Gretchen Morgenson and Joshua Rosner is the best primer.
The Freddie Inverse Floaters Explained
Inverse floater are mortgage instruments that do best if the borrower does not refinance.  I examined the 29 deals Pro Publica used as the basis to their story.  What was not clear is that these were not new mortgages; Freddie took mortgages they already owned — that were purchased by their hedge-fund — and rewrote them into new instruments, keeping the interest paying pieces.
Despite that the new securities were created in 2010-2011, they involved $1.23 billion of mortgages written in 2009, $3.68 billion of mortgages written in 2008, $6.61 billion written in 2007 .. even $105 million written in 1995.  
That is, Freddie essentially purchased usually old mortgages from themselves and remixed them into new securities where they benefited if borrowers could not refinance to lower interest rates.
Here is a spreadsheet detailing the Freddie Inverse Floaters & Related Instruments.
Freddie started to write these deals on March 1, 2010, though the majority — three times the prior volume — were written between Dec. 1, 2010 and April 1, 2011.  That's important because Freddie increased its "Post Settlement Delivery Fee," — a junk fee that makes refinancing to a new GSE loan less affordable — on Nov. 22, 2010.
Altogether Freddie wrote $17.19 billion in inverse floaters — instruments where Freddie loses if borrowers refinance — or instruments that function similarly to inverse floaters.
These loans were at relatively high interest rates, most likely from the lowest credit borrowers.  For example, the 2006 era loans carry an average interest rate of 6.65%, the 2007 era loans 6.52%, and the 2008 era loans 6.29%.
Principal and interest payments on a $350,000 30-year loan at 6.29% is $2,164/month.  At 3% interest the same loan costs $1,476/month, or $689 dollars per month less, so there is an an appreciable difference.  Over the life of the loan the higher interest costs a borrower $247,863 extra, money Freddie stands to gain at the expense of their borrowers.
As Pro Publica pointed out, correctly, Freddie stands to lose if people who took out these higher interest payments refinance to lower interest payments.  Where they blew it was not breaking down the new instruments, the inverse floaters, into the years that the underlying mortgages came from.
Thanks to DeMarco's thankless and somewhat schizophrenic mandate, it is not clear whether Freddie and the FHFA did anything wrong or whether the mandate itself — if not the GSE's — needs to be revisited with the purpose of finally dismantling the GSE's.  Freddie Mac and a host of banker have defended the deals, though I suspect most bankers did not realize Freddie was remixing old loans, not new one's.
All the confusion, the conflicts of interest, and the grey areas of morality, point to the need to dismantle the GSE's and push tirelessly to restart the private secondary market, which has essentially vaporized since the financial crisis.
As long as government continues to dominate the lending business, especially with such a conflicted and emotionally charged mandate, the private market — and the discipline putting one's own money on the line inspires — will never return.
Cross Posted from nakedcapitalism.com.
Fallout continues from the ProPublica/NPR story "Freddie Mac Bets Against American Homeowners," though probably not the sort ProPublica expected.
Many in the blogsphere who work on finance and housing finance issues, including myself and Yves Smith, didn't find the piece to be convincing. In a rebuttal Yves, who like me is anything but a cheerleader for the GSEs, explained Freddie's practice is, in reality, only slightly more nefarious than clearing snow from the parking lot. That is, of all the awful decisions Freddie Mac
 makes, this isn't one of them.
ProPublica co-author Jesse Eisinger replied to Yves' critique in the comment section. I e-mailed Yves about Jesse's remarks and she suggested I flesh my observations out into a post.
To recap: Freddie Mac purchases and bundles mortgages, bundles those mortgages into pools of mortgages, then sells the expected mortgage
 payments to investors in the form of bond-like securities.
Securitization is a vital component of the modern mortgage market, or most other credit markets for that matter, since the process frees up capital that can then be used to make more mortgages.
In late 2010 Freddie Mac, according to the ProPublica story, started to retain a greater number of "inverse floaters," an instrument created when mortgage pools are turned into collateralized mortgage obligations. As Yves pointed out, even though this portion is typically hard to sell and is thus often retained by the originator, it often makes more sense to use a CMO to create more conventional-looking bonds that can be sold to investors at better prices and retain inverse floater because it results in lower interest rates than if they sold a simple mortgage pass through. The GSEs have a mandate to provide more affordable loans to homeowners and better results to taxpayers, so lowering the cost of mortgage funding is consistent with those objectives. It is true that inverse floaters benefit when borrowers don't refi, but as Yves pointed out, the GSEs engage in very complex interest rate hedging strategies. Looking at this position by itself tells you nothing about Freddie's overall interest rate bets.
ProPublica tried to argue that an increase starting in 2010-2011 versus 2008-2009 in the number of deals where the inverse floaters were retained was a sign of Freddie positioning itself to bet against homeowners. The authors apparently failed to look at Freddie's CMO issuance during this period. Its CMO issuance rose, and so it appears that much, perhaps all, of the increase in retention was due to an increase in mortgage funding by Freddie (see the bottom blue bars in the left hand chart):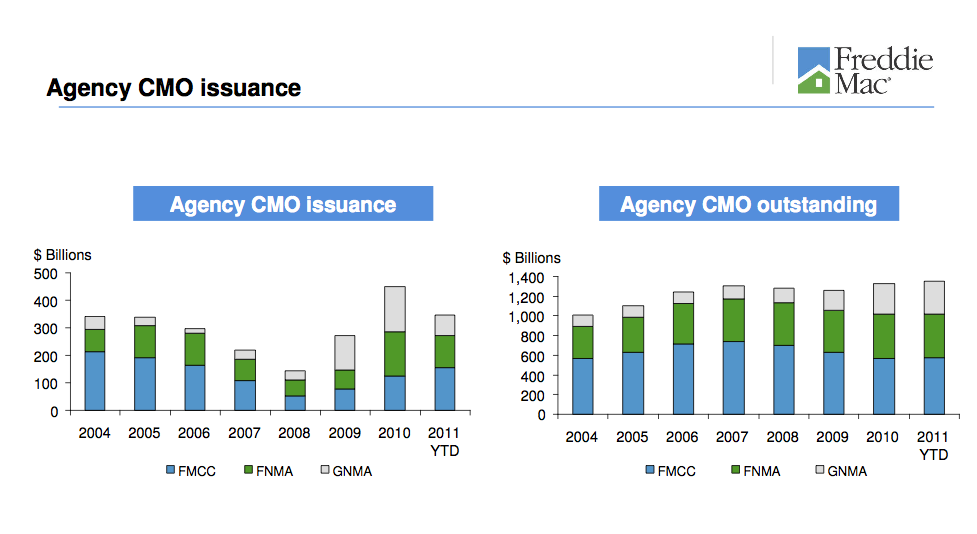 Moreover, the inverse floater is the portion of the CMO that is most exposed to prepayment risk. Given the uncertainty about government intervention in the mortgage market, investors in both straight passthroughs and in CMOs would be more leery than usual of taking prepayment risk. To put it in trader-speak, as readers have, this is a "long vol" bet, and if investors were unwilling to buy volatility (as in vol was unusually cheap), it would make even more sense to retain it.
Yet ProPublica contended that Freddie Mac's use of inverse floaters represented a conflict of interest because the GSE would lose money from the hedges if borrowers refinanced to lower interest mortgages. They implied Freddie could abuse its influence in the housing market to prevent lower-interest refinancing programs, which are better for borrowers.
I'll summarize Jesse's comments, which I verified did come from him:
• Freddie's retention of inverse floaters increased in 2010 then came to an abrupt half in 2011, making it appear that the FHFA, which oversees Freddie, told them to knock off which is a tacit acknowledgment the government-owned organization should not profit by trapping people in higher-interest mortgages.

• There exists less complicated and less expensive ways to hedge the interest rate risk. Jesse quoted a trader who summarized ".. comparing inverse floaters to hedging tools is not just apples and oranges — it's more like apples and cars. They just have nothing to do with each other."

• Retaining the interest-only streams runs contrary to Freddie's mandate to decrease their portfolio.
I have to point out that Jesse misrepresented Yves' argument. She never said the inverse floaters were a hedge; she said you can't tell what bets Freddie is making unless you look at all their positions, since the GSEs do a great deal of interest rate hedging. The wager represented by the inverse floater may well have been partially or fully offset by other positions.
Since the story surfaced, the FHFA released a statement clarifying that the inverse floaters make up about $5 billion of Freddie's $650 billion portfolio.
My own analysis is that the argument that Freddie didn't bet against the American homeowner. There's just too much direct and indirect evidence supporting they simply made a decision that was, in hindsight, politically bone-headed albeit fiscally benign.
Consider the following:
Every quarter the Office of the Comptroller of the Currency (OCC) releases a study detailing loss mitigation options, including modifications, for mortgages. Their latest study was release for Q3, 2011. They break modification options down into several buckets, including capitalization, interest rate reduction, interest rate freeze, term extension, principal reduction, principal deferral, and "not reported" (the servicer cannot contractually explain what modification term they offered).
Freddie regularly freezes and lowers interest rates in modifications. Since Freddie refuses to engage in principal reduction, it makes no sense they'd neuter one of the favorite tools in their modification arsenal by betting against it.
Here are some modification stats. Keep in mind, while reviewing the figures, that most modifications involve more than one category of relief, so results add to over 100%.
Freddie reduced interest rates in 74% of the modifications they offered and froze rates in 7.6% of their mods. In contrast Fannie reduced rates in 70.4% of their mods and froze rates in 3.6%. In contrast government-guaranteed (FHA, VHA, etc..) loans lowered rates in 93.7% of their mods, private investors lowered rate in 71.5% of their mods, and portfolio loans lowered interest in 83.6% of their mods.
Fannie and Freddie are vigilant, almost to the point or paranoia, about strategic defaults: making bets to trap people in high-interest mortgages makes strategic default more likely. The Mortgage Bankers Association commissioned a study about strategic defaults, comparing them to a disease. That is, strategic defaults, they argued, are contagious across borrowers. Their solution, faster foreclosures to stem strategic defaults, appears nonsensical. But the underlying theory, that if one neighbor sees another move down the street into the same model home for half the rent that the second neighbor will do the same, does not appear far-fetched. Getting back to the issue at hand, it just doesn't make sense that Freddie Mac, for some short-term trading gains, would risk spreading a "disease" that puts the entire portfolio at risk.
Freddie doesn't have enough influence over borrower interest rates to believe they could rig the entire market. There's nothing except the fiscal/monetary policy firewall stopping the Federal Reserve from offering to buy bundled refinanced performing GSE mortgages. By offering to pay a premium they could reduce interest rates and justify enough cash-flow for some limited principal reduction.
In normal times that firewall would prove impossible to breach, but these are anything but normal times. Arguing that the Fed is banned from engaging in this type of relief would be akin to a mother of four arguing she needs to preserve her virginity.
If that happened, and it does not seem far-fetched, Freddie or Fannie would have to say about the matter. People would go to a private lender, who would sell their loans on a private secondary mortgage market, and quickly flip the pooled securities to the Fed. This policy would quickly enable the refi's, reduce the GSE's portfolio, and might reignite the private secondary mortgage market.
Freddie surely recognized this risk and wouldn't be foolish enough to bet against it happening in a major way.
Freddie acts stupid, not suicidal. Freddie is already a political pariah. In modern American discourse there are few areas of consensus on any subject between the political right, left, and center, or between various economists and businesspeople, except that Freddie Mac and Fannie Mae are awful.
Debates typically center around how much they suck, but nobody argues they're welcome additions to the US business climate. Literally nobody except maybe Newt Gingrich likes these organizations.
Freddie surely would not be so stupid as to overtly bet against American homeowners in this environment. Conversely, once they realized their hedging strategies could be perceived as exactly that they quickly stopped using that strategy, which is why the use of inverse floaters came to an abrupt end.
ProPublica has an established reputation. But sometimes even the best bomb.
It'd be legitimate to question why, say, Fannie and Freddie have a higher 12-month re-default rates than private market modifications over recent years, despite having substantially lower-risk borrowers. An investigative series about their central role in the foreclosure fraud crisis — their reckless policies and practices set the stage for our current fraud-fest — would be welcome and bruising. It's arguably harder to find something that the GSE's do right than something they do wrong.
Maybe ProPublica is a victim of its own success. This story about inverse floaters is the inverse of what we've come to expect and what the economy requires if we're ever going to substantively recover: fact-based reporting on serious but solvable real problems.